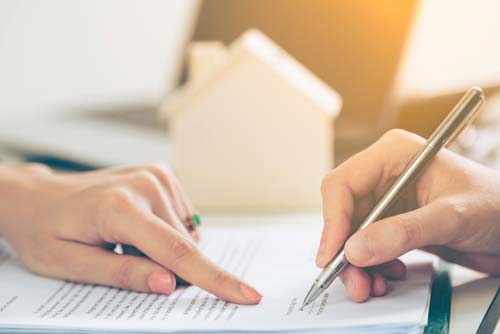 Buying your new home can be an exciting adventure! Our home buying guide will help you understand the process – from steps you should take at the beginning through closing on your new home. While there are a lot of details involved, taking the right steps and making informed decisions will make your purchase go smoothly as possible.
Define Your Goals
Before beginning your home search, make sure to have clearly set goals: desired neighborhoods, type of home, must-have amenities, etc. As you get into the market, you may need to be flexible on some of these requirements, but starting with a best-case list will be helpful.
We recommend that you create a list of must-haves and like-to-haves. When talking with your Realtor or searching online, if a home does not meet one of the must-haves, you or your Realtor can eliminate it immediately. For example if you work from home (and many of us should consider that as a possibility today), space for a home office could be a must. But an office could be in a separate room or part of a larger space. Make your list accordingly.
Examine Your Finances
Before purchasing a home, it's important to make sure you have your finances under control – make a detailed budget and ensure that you have savings and reserves in place to support your home purchasing goals.
Owning a home brings several financial advantages with taxes and the building of equity among them. There are also added expenses such as HOA fees, repairs, insurance and a mortgage payment. When considering a home purchase, make sure you look at the full cost of home ownership.
Also consider the closing costs associated with a home purchase. These include items such as local taxes on the purchase, title search and related fees, lender fees and reimbursing the homeowner for prepaid items like HOA fees paid in advance.
Get Pre-Approved
Pre-approval is vital before you begin your search in earnest – you'll have MUCH more power as you submit offers and negotiate with sellers if you are already approved for a mortgage. Without a pre-approval, many if not most sellers won't entertain an offer.
Call several mortgage lenders – you'll find differences in rates, fees, and customer service. Finding the right mortgage lender is important. Check reviews as well to make sure you're choosing someone with a track record of satisfied borrowers. Make sure your lender finances the type of home you intend to buy. For example, do they finance condominium purchases?
Lenders may charge fees that are paid at closing. We suggest checking out Keller Mortgage along with other lenders. With Keller Mortgage there are no lender fees, you get a great rate and receive $1000 at closing towards other closing costs. For more information and or to get pre-approved, click here.
Hire a Real Estate Professional
Take some time to do some research here!
By this point, you have a good grasp of the type of property you're looking for and the purchase price you can afford. Interview a few agents to find someone who regularly sells similar homes. Look for an agent with a proven track record but also find someone that you connect with and that understands your specific needs and desires. Hire a good listener!
By the way, as a buyer you do not normally pay for the agent, that cost is borne by the seller.
Search for Homes
Everyone searches for homes online and I'm sure you will too. But also make sure your agent knows what you are looking for. We often know about homes that are just right for our clients and can shorten the search time. Sometimes we know of a home that isn't on the market yet, but if the homeowner had a buyer, they might be willing to list the home.
If a home has a virtual tour in addition to photos that's an big advantage. It is still best to visit the home in-person as it is hard to get the "feel" of home from videos and photos. Work with your agent to pick 4 to 6 of your top choices and schedule showings on a morning or afternoon. If you are new to an area or aren't sure of where you want to live, I advise you to visit a number of different communities on your first tour. Then your agent can refine the search and zero in on the best homes for you for your next tour.
Make an Offer and Negotiate
Once you've found the home you'd like to buy, it's time to make an offer. Here's where a good agent earns their money – showing you the home is the easy part. Shepherding you through offer, negotiating a good price and closing is where great agents shine!
Sellers can counter your offer, inspections can reveal possible repairs, and you can suddenly find your budget at risk and maybe even question if this is the right home for you. Above all, stay calm and continue to communicate with everyone involved. Check your budget, your emotions, and your buying partner to make the next right steps.
In today's real estate world, most paperwork such as making an offer is done online with e-signatures. Often closings can even be handled remotely. Each person signing needs their own email address. Signing electronically is easy and your agent should walk you through the simple process.
Home Inspection
Do not be tempted to skip the home inspection! Hire a good home inspector that will provide you with a clear and understandable report. The important items should be highlighted so you know the things to concentrate on when negotiating repairs with the seller.
Don't be overly concerned with a long list of items in an inspection report. Make certain you focus on things that really matter like roof leaks, electrical issues, etc. Work with your Realtor to cull through the list and negotiate important repairs with the seller. In some cases the sellers may opt to provide cash instead of making the repairs. Whether or not this is acceptable is up to you.
Secure Your Financing
You're almost there – remember, your lender wants to ensure that this is a good move for everyone, so they will usually ask for more information about income, the condition of the house, or your credit history. Providing accurate and timely responses keeps the process moving and gets you to your desired outcome the fastest.
Close the Deal
The timing for closing can vary, but the average is 30 – 45 days. Typically, within 48 hours prior to closing, you'll do a final walk-through to check that all agreed-to repairs are completed and that the home is in the expected condition.
You can expect to meet with your lender and agent to finalize the paperwork. There may also be attorneys present, the seller's agent, a representative from the title company, and the designated closing agent. During the closing all paperwork will be finalized, including: the deed, title, financial/funding, closing statements, insurance, contract, etc.
At this point, you're done with everything and you will be ready to move into your new home!!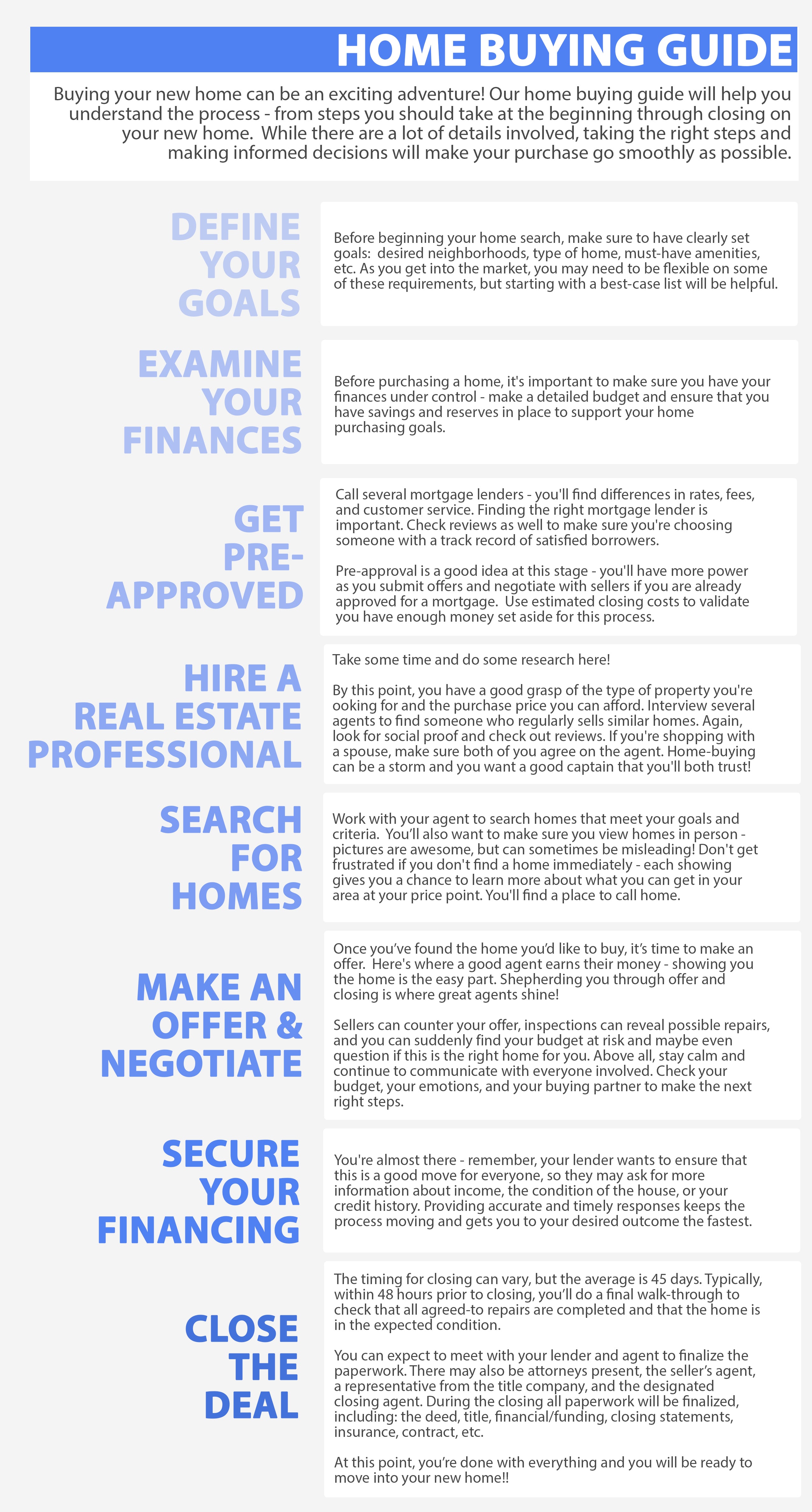 You may also be interested in...